Discover more from H+ Weekly
H+ Weekly sheds light on the bleeding edge of technology and how advancements in AI, robotics, and biotech can usher in abundance, expand humanity's horizons, and redefine what it means to be human.
Over 1,000 subscribers
H+ Weekly - Issue #243
View this email in your browser
This week - Boston Dynamics gets a new CEO and Adam Savage gets Spot Mini; CRISPR could fry all cancer using newly found T-Cell; AI epidemiologist was first to send warnings of the coronavirus; and more!
ARTIFICIAL INTELLIGENCE
Facebook has trained an AI to navigate without needing a map
A team at Facebook AI has created a reinforcement learning algorithm that lets a robot find its way in an unfamiliar environment without using a map. Using just a depth-sensing camera, GPS, and compass data, the algorithm gets a robot to its goal 99.9% of the time along a route that is very close to the shortest possible path, which means no wrong turns, no backtracking, and no exploration.

An AI Epidemiologist Sent the First Warnings of the Wuhan Virus
BlueDot, an AI designed to track epidemics, was first to notify about the Wuhan virus. The AI did this a week before WHO just by analysing news reports and airline ticketing data to predict the spread of diseases.

An Idea From Physics Helps AI See in Higher Dimensions
Convolutional neural networks, responsible for the AI boom in recent years, is really good at reading two-dimensional data (like images) but fails to read data in higher dimensions. This article introduces gauge-equivariant convolutional neural networks, which can not only detect patterns not only in 2D arrays of pixels but in more complex geometries as well.

► This Neural Network Combines Motion Capture and Physics (3:39)
This video explains how deep reinforced learning can help make animations in video games more robust and more natural.
ROBOTICS
► Adam Savage Tests Boston Dynamics' Spot Robot (6:38)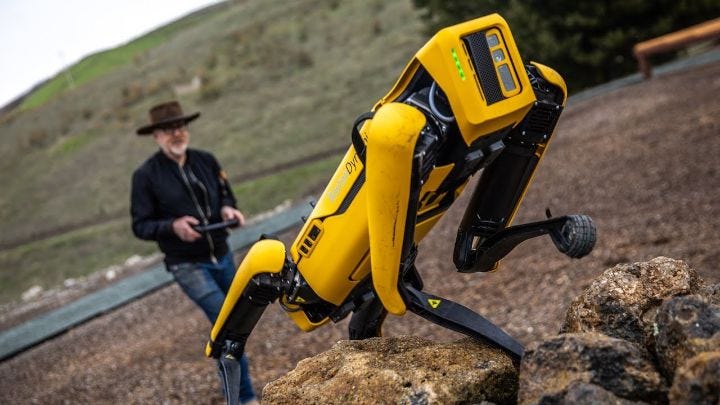 Adam Savage got a brand new Spot Mini to play with and he took it outside to see how the robot tackles rough terrain.
Spot Mini SDK
Boston Dynamics has open-sourced an SDK for its Spot Mini robots. Even if you don't have Spot Mini, it is interesting to see how one can write programs for the robot.

Boston Dynamics appoints its first-ever new CEO
Marc Raibert, the founder of Boston Dynamics, stepped down as CEO. Longtime employee Rob Playter will be stepping into the position, having most recently served as Boston Dynamics' COO. "I just had my 70th birthday," Raibert tells TechCrunch. "So I've been thinking about this for about a year that we needed a succession plan and I had been working on it during that time, talking to SoftBank, making sure they were cool with the idea, and making sure I was cool with the idea."

Waymo's self-driving trucks and minivans are headed to New Mexico and Texas
Waymo said it will begin mapping and eventually testing its autonomous long-haul trucks in Texas and parts of New Mexico, the latest sign that the Alphabet company is expanding beyond its core focus of launching a robotaxi business.
BIOTECHNOLOGY
CRISPR-Edited Babies Arrived, and Regulators Are Still Racing to Catch Up
He Jiankui's announcement of first CRISPR-edited babies provoked a global outcry. The revelation also prompted intense discussion about what should be done to block the next gene-editing rogue. Since then, various groups, including two major international organizations, have begun developing new regulatory frameworks to govern human genome editing. Meanwhile, debate has also swirled about whether there's an immediate need to prohibit gene editing in clinical research.

CRISPR Could Fry All Cancer Using Newly Found T-Cell
Researchers have found a new T-Cell which combined with CRISPR gene-editing technology can help boost human immune system to fight cancer.

Biodegradable Nerve Guide Helps Regenerate Damaged Nerves
The scientists have created a biodegradable nerve guide consisting of a polymer tube filled with a growth-promoting protein to help damaged nerves regrow on their own.
Thank you for subscribing,
Conrad Gray (@conradthegray)

If you have any questions or suggestions, just reply to this email or tweet at @hplusweekly. I'd like to hear what do you think about H+ Weekly.
Follow H+ Weekly!